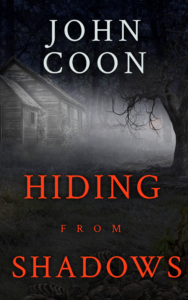 I started what I hope will turn into a fun tradition for my readers each October.
Over the span of two weeks, I published four parts of a serialized ghost story to my Strange New Worlds newsletter subscribers. The story, Hiding From Shadows, is adapted from a short story I first wrote in college. The tale is set in a fictional Louisiana town, Brumeux Bayou, and centers on Ellen, a divorced woman who keeps a nightly vigil guarding against her ex-husband Ray from returning to their farm after their marriage ended a year earlier.
Here's a snippet from part one to get you started:
Efforts to sell the farm fell flat. She finally pulled down the For Sale sign when too many weeks came and went without a reasonable offer. Ellen was stuck in this dump. And that realization haunted her for as long as she remained awake.
Ray knew right where to find her.
Every night she planted herself in the rocking chair and cradled the same old bat. She had kept this vigil going for an entire year since she last laid eyes on him. Hot and muggy. Bone-chilling cold. It didn't matter what conditions greeted her on her back porch. Ellen forced herself to watch the woods until she had almost forgotten how sleeping in a warm soft bed felt.
Letting her guard down was not an option – not even for a single night.
If you enjoyed what you read, subscribe to Strange New Worlds today and catch the rest of Hiding From Shadows and other future stories.