A message from across the galaxy. A journey to a distant world. Will first contact bring a new understanding … or death?
Calandra Menankar dreams of becoming her planet's top astronomer. So when a probe from a place called Earth rockets into her solar system, she's determined to uncover its secrets. And when the foreign craft transmits a message of peace, Calandra secures permission to voyage to the unknown orb despite brittle bones that could make space travel fatal.
Teaming up with her boyfriend pilot, Xttra Oogan, the two cross the stars towards the mysterious blue-green globe unaware one of their crew hides a sinister agenda. And when they translate the Earthian communications, Calandra and Xttra fear the probe may have led them into a deathtrap far from home …
Will traversing the Milky Way to a dangerous, new planet make both explorers wish they never left home?
Alien People is a thrilling and captivating science-fiction novel by bestselling author John Coon. If you like nail-biting action, high adventure, and ambitious characters, then you'll love this immersive tale set in the same fictional universe as Under a Fallen Sun.
Available at these major booksellers: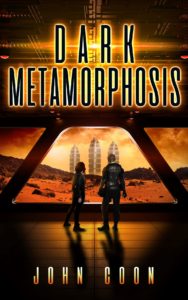 A brutal abduction. A merciless interstellar plot. Can Calandra and Xttra fight deceit and assassins to reveal the dreadful truth?

The scars Calandra Menankar carries go well beyond her amputated arm. After surviving a disastrous first contact with Earth, she wants nothing more than to avoid space travel and enjoy a quiet life with her husband. But her dreams shatter when her soulmate disappears at the hands of an unknown assailant.

Master pilot Xttra Oogan is haunted by the deaths of his former crew. So he leaps at the chance to purge his guilt when the Stellar Guard dispatches him to capture a dangerous thief and saboteur. But when he discovers a diabolical frame-up, he's abducted and dragged back to the nightmarish blue planet.

With no idea what became of her beloved, Calandra's determination to uncover hidden agendas puts her in an enemy's crosshairs. And to find his way home and save his people, Xttra's only hope of survival may be to forge new alliances with old foes…

Will they bring down a galaxy-spanning scheme before their lives are scattered to the stars?

Dark Metamorphosis is the second book in the explosive Alien People Chronicles science fiction series. If you like dogged heroes, deep-state plots, and ruthless enemies, then you'll love John Coon's latest thrill ride.
Available at these major booksellers:

A world-conquering weapon. An unrelenting despot. Can a rebel couple finally defeat their oppressor's reign?
Calandra Menankar dreams of ending tyranny. Living in exile and shunned by her family, the heartsick refugee refuses to stop trying to spark a revolution. And though she fears she isn't making a difference from afar, she's determined to bring down a brutal ruler no matter the cost.
Xttra Oogan longs to live in peace with his wife and daughter. And he gets one step closer to that future when he destroys the last of facilities housing genetically altered soldiers. But just as the daredevil pilot believes he's gained the upper hand, he learns the tyrannical ruler of his former homeland seeks an ancient staff rumored to impart god-like powers.
Following multiple attempts to kill them, Calandra flees off-planet with her husband and young child to secure a safe haven and fresh allies. But Xttra's plan to beat the tyrant to the powerful relic crumbles when their ship arrives at an alien solar system to find the enemy's fleet ready for battle.
Will the courageous duo prevail or take their final breaths far from home?

Among Hidden Stars is the suspenseful third book in the Alien People Chronicles science fiction series. If you like dynamic characters, explosive action, and fighting against terrifying odds, then you'll love John Coon's breathtaking conclusion.
Available at these major booksellers: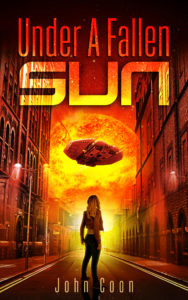 A town is under siege from an alien menace. Four college students are battling for their lives. Can they defeat invaders who seek to conquer Earth?
Paige is a carefree college student whose world turns upside down when her brother Todd vanishes without a trace. She undertakes a spring break road trip with her friends along the same route where he disappeared. A broken-down car forces them to seek help in Travis, an isolated West Texas town.
Travis harbors frightening secrets. A mysterious energy barrier traps all visitors inside the town. Signs of violent struggles are present in many buildings. And horrifying changes have overtaken the few surviving residents.
Efforts to unravel the frightening mystery bring Paige and her friends face to face with an adversary from across the stars. An enemy they never knew existed has come to Earth. Now the fate of the entire human race could hinge on their survival.
Under a Fallen Sun is a science fiction thriller from bestselling author John Coon that explores what it means to be human and the terrifying implications of humanity not being alone in the galaxy. If you enjoy high-stakes suspense and inhuman adversaries, you'll love this engrossing tale from the Alien People Chronicles universe.
Available at these major booksellers: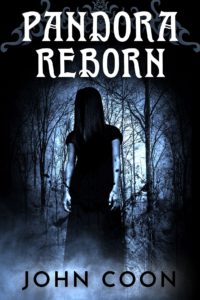 A buried chest is unearthed. A malevolent witch returns. Can Ron Olson stop her before she destroys him and Deer Falls?
Ron did not sign up for battling an ancient evil. He is a reluctant newcomer to the small Colorado town. Adjusting to Deer Falls is already difficult for Ron who just wants to play soccer, but has been torn away from his father, his friends, and his old life back in Denver.
But Deer Falls is more than a sleepy farm town. It is also a hub for supernatural activity. Ron learns this firsthand when a mysterious witch is freed from an unearthed chest that once imprisoned her. This ancient and powerful evil descends upon the town a second time after a 55-year absence.
No one is safe from her wrath as unexplained deaths and disappearances increase. Now Ron and his new friends are targeted as she conjures up terror in Deer Falls a second time. Can they discover the key to defeating this ancient evil before joining others in falling at her hand?
Pandora Reborn is John Coon's debut novel. If you love relentlessly suspenseful horror stories, this small-town horror tale will hook you from start to finish.
Available at these major booksellers: