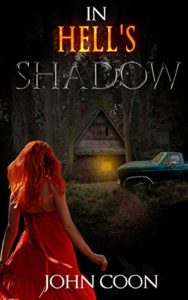 Trapped in an unfamiliar place far from home, Kate must confront a once-buried nightmare anew. Will it lead her to certain destruction?
Kate's plans for a weekend getaway with Sarah take a frightening turn when her car plunges through a guard rail during a blinding rainstorm. Now left on a darkened canyon road with no transportation, and no way to reach out to Sarah for help, Kate is forced to accept assistance from a mysterious man in a beat-up pickup truck.
Hitching a ride with this stranger is the first step in a frightening journey to an isolated mountain cabin. Kate soon finds herself in a cat-and-mouse game with this mysterious person who is connected to secrets from her past. Can she find the strength to deliver herself from this hopeless situation before it grows too late?
In Hell's Shadow is an intense paranormal horror short story from author John Coon. If you enjoy campfire ghost stories, you will love this creepy tale.
Available exclusively on Kindle Unlimited.
Hiding From Shadows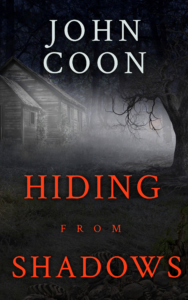 Every night is a personal battle to survive until morning for Ellen. An unseen menace lurks in the shadows outside her home. Will it strike without mercy once she lets her guard down?
Ellen wanted more than to spend her life in a backwater Louisiana town. She seeks to leave the bayou and travel the world while fulfilling her ambitions. But a troubling past has swallowed that future. Nearly a year has passed since she last laid eyes on Ray. He swore to return and exact revenge against Ellen for ending their unhappy marriage. A nightly vigil awaits when sunlight yields to moonlight. No one can help. Armed with her trusted bat, Ellen must stand alone as an inevitable confrontation with her darkest fear looms on the horizon.
Hiding From Shadows is an unsettling ghost story from the mind of John Coon. If you like heart-pounding scares and unexpected twists, you'll love this chilling and terrifying short horror story set in the Deer Falls universe.
Available at all major retailers:
This story is also available in serialized form to readers of my Strange New Worlds newsletter. Part one is free to read. The other three parts are exclusive to paid subscribers.