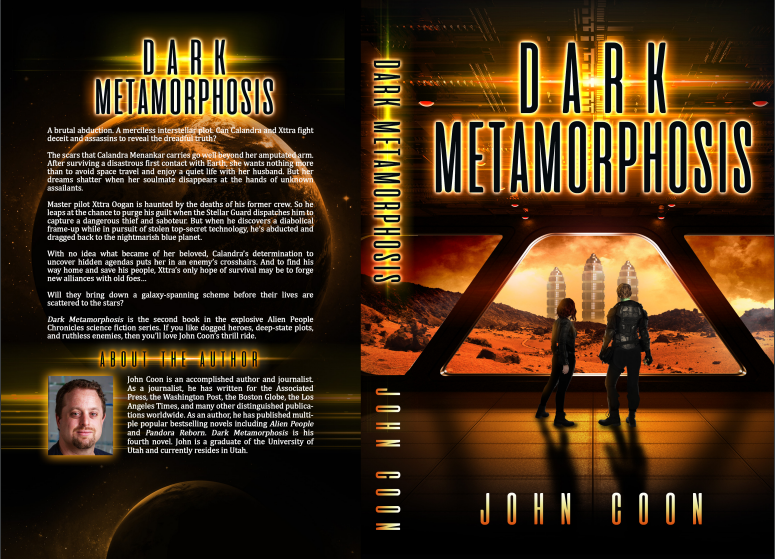 Some big news to share!
Dark Metamorphosis has an official release date. The second book in the Alien People Chronicles will be published on July 13th. My latest novel is the second book in a planned trilogy, with the third entry slated for a date to be determined in 2022.
The story picks up one year after the events of Alien People. Here's a sneak peek concerning what awaits Calandra and Xttra in this latest adventure:
A brutal abduction. A merciless interstellar plot. Can Calandra and Xttra fight deceit and assassins to reveal the dreadful truth?
The scars Calandra Menankar carries go well beyond her amputated arm. After surviving a disastrous first contact with Earth, she wants nothing more than to avoid space travel and enjoy a quiet life with her husband. But her dreams shatter when her soulmate disappears at the hands of an unknown assailant.
Master pilot Xttra Oogan is haunted by the deaths of his former crew. So he leaps at the chance to purge his guilt when the Stellar Guard dispatches him to capture a dangerous thief and saboteur. But when he discovers a diabolical frame-up, he's abducted and dragged back to the nightmarish blue planet.
With no idea what became of her beloved, Calandra's determination to uncover hidden agendas puts her in an enemy's crosshairs. And to find his way home and save his people, Xttra's only hope of survival may be to forge new alliances with old foes …
Will they bring down a galaxy-spanning scheme before their lives are scattered to the stars?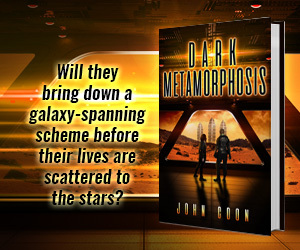 You can reserve your own ebook copy of Dark Metamorphosis starting today. My novel is now available to pre-order at various booksellers.
Pre-orders at other booksellers will be announced and updated links added once they become available.