Are you ready to make contact one more time?
Readers have loved getting to know Calandra Menankar and Xttra Oogan while sharing their adventures in Alien People and Dark Metamorphosis. Their hero's journey started with a first contact expedition to Earth that turned into a nightmarish battle for survival. Then, they fought a dark conspiracy concealing horrific crimes committed by their nation's ruler.
Now the concluding chapter in the Alien People Chronicles begins.
The title of my latest novel will be —
Among Hidden Stars
---
Here's a brief teaser concerning what lies ahead for Calandra and Xttra in this exciting conclusion to my science fiction adventure trilogy:
"A world-conquering weapon. An unrelenting despot. Can a rebel couple finally defeat their oppressor's reign?
Calandra Menankar dreams of ending tyranny. Living in exile and shunned by her family, the heartsick refugee refuses to stop trying to spark a revolution. And though she fears she isn't making a difference from afar, she's determined to bring down a brutal ruler no matter the cost.
Xttra Oogan longs to live in peace with his wife and daughter. And he gets one step closer to that future when he destroys the last of facilities housing genetically altered soldiers. But just as the daredevil pilot believes he's gained the upper hand, he learns the tyrannical ruler of his former homeland seeks an ancient staff rumored to impart god-like powers.
Following multiple attempts to kill them, Calandra flees off-planet with her husband and young child to secure a safe haven and fresh allies. But Xttra's plan to beat the tyrant to the powerful relic crumbles when their ship arrives at an alien solar system to find the enemy's fleet ready for battle.
Will the courageous duo prevail or take their final breaths far from home?"
---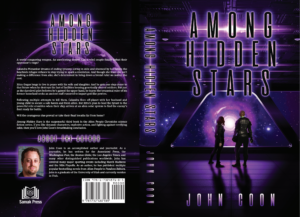 Among Hidden Stars will be released on September 13th. My latest novel will be available as an eBook and a paperback at major booksellers worldwide. I'm thrilled to share another episode in the story of Calandra and Xttra. I hope readers will embrace the final book in this trilogy as much as the first two parts.
Among Hidden Stars is available to preorder as an eBook on Amazon, Apple Books, and Barnes and Noble currently, with other retailers to follow ahead of my novel's September 13th release date.